This post contains affiliate links.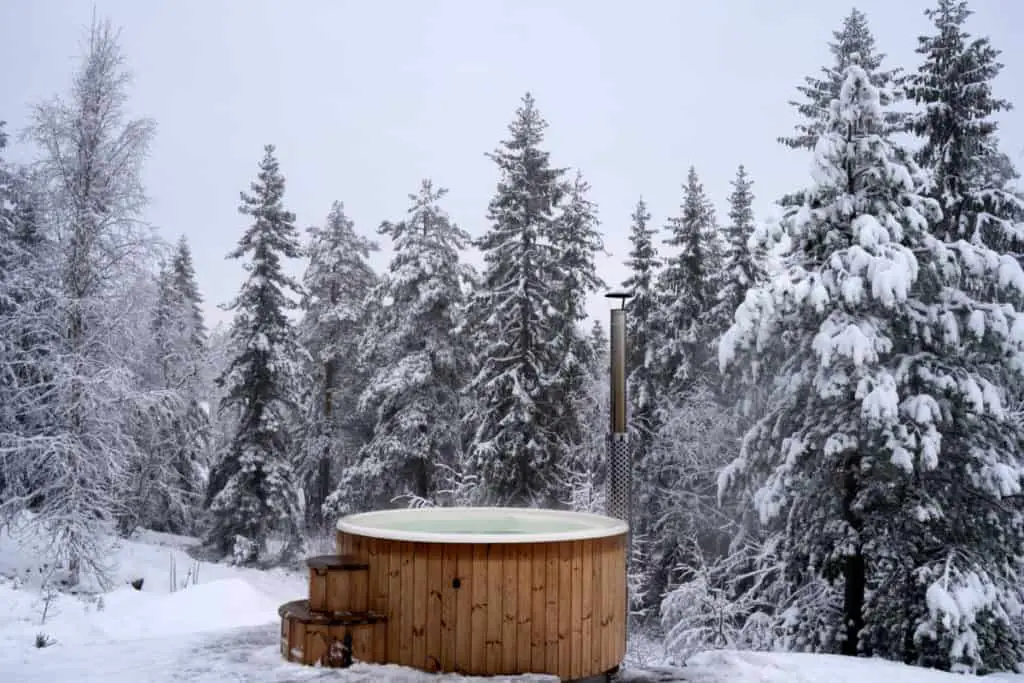 Sitting in a warm hot tub looking out over a snow-covered landscape has got to be one of the most serene experiences. Canada has the perfect climate for winter hot tubbing and therefore it is not a huge surprise that there are so many Canadian made hot tubs.
What hot tub brands are made in Canada?
Arctic Spas
Sunrise Spas
Beachcomber Hot Tubs
Sun Ray Spas
Coast Spas
Roto Spa Hot Tubs
Hydropool Hot Tubs and Swim Spas
Canadian Spa Company
Ok, so that is the list. If you are looking for a bit more information, keep reading below.
What Are The Hot Tub Brands Made In Canada?
Arctic Spas:
Arctic Spas has been around since 1994 and is currently headquartered in Thorsby, Alberta, Canada.
They produce three distinct lines of hot tubs: The Core Series, The Classic Series, and The Custom Series. Each line is fully customizable with a huge range of options and features.
You can learn more about Arctic Spas on their website.
Sunrise Spas:
Sunrise Spas has been around for over 30 years and is headquartered in Grimsby, ON, Canada.
They produce two collections of hot tubs: Classic Collection and Paragon Collection. The Classic Collection is made up of the S Series and SX Series. The S Series has a selection of 115V and 230V hot tubs. The lower voltage hot tubs are only available in North America. The Paragon Collection is only available in Europe.
I found their website easy to navigate so check it out if you are interested.
Beachcomber Hot Tubs:
Beachcomber Hot Tubs was founded in 1978 in Surrey, British Columbia, Canada.
The main lines from Beachcomber are the 300 Series, 500 Series, 700 Series, and SLB Series. What sets Beachcomber apart are their hybrid hot tubs. A hybrid hot tub is designed to have maximum energy efficiency. They attempt to achieve this by putting the equipment, such as the pumps, under the steps instead of inside the main hot tub cabinet. This allows the entire cabinet to be filled with insulation.
For more information on their hybrid models, you can visit their website.
Sun Ray Spas:
Sun Ray Spas is based in Edmonton, Alberta, Canada. The founders started out in the hot tub service industry before deciding they wanted to make their own hot tubs.
Sun Ray Spas makes 6 hot tub models and 1 swim spa. The sizes range from a 5 seater to a massive 10 seater hot tub. The swim spa when not being used for swimming can seat 6-8 people in a relaxing 2000 gallons of water.
For more information about Sun Ray Spas, you can go to their website.
Coast Spas:
Coast Spas are manufactured in Langley, British Columbia, Canada.
There are three different models in the Coast Spa lineup, the Traditional collection, the Curve collection, and the Infinity collection. The Infinity collection provides an industry exclusive infinity-edge hot tub.
Other than the "cool" factor, the infinity-edge design maintains a constant water level no matter how many people are sitting in the hot tub.
To see the Infinity Collection for yourself, check out their website.
Roto Spa Hot Tubs:
Roto Spa Hot Tubs are built in Lakefield, Ontario, Canada.
This brand offers a unique style of hot tub that is made using a manufacturing process called rotational molding. This is a different process and shell type than the more traditional fiberglass shell. A rotationally molded shell provides strength and durability at a more affordable price than a traditional shell.
Roto Spa only offers one type of tub in four different colors. Check it out by going to their website to see what they have to offer.
Hydropool Hot Tubs and Swim Spas:
Hydropool was founded in 1970 as a swimming pool company. They didn't start making hot tubs until 1978. Hydropool is currently headquartered in Mississauga, Canada.
The brand offers three series of hot tubs and three series of swim spas. Their claim to fame is what they call "Self-Cleaning Technology". Hydropool claims to filter the entire volume of water in the hot tub every 15 minutes. The technology utilizes a surface skimmer and built-in floor vacuum to remove as much dirt as possible from the hot tub.
You can learn more about their offerings on their website.
Canadian Spa Company:
The Canadian Spa Company has been manufacturing hot tubs in Canada since 1976. They are currently based out of Kitchener, Ontario, Canada, and are a family-owned company.
Their main offering is a cedar sided circular hot tub that comes in a variety of sizes. Their largest and deepest hot tub is called the Total Therapy hot tub. It is an astounding 5 ft deep and holds up to 1200 gallons of warm relaxing water.
You can find out more on their website.
Should You Buy A Canadian Made Hot Tub?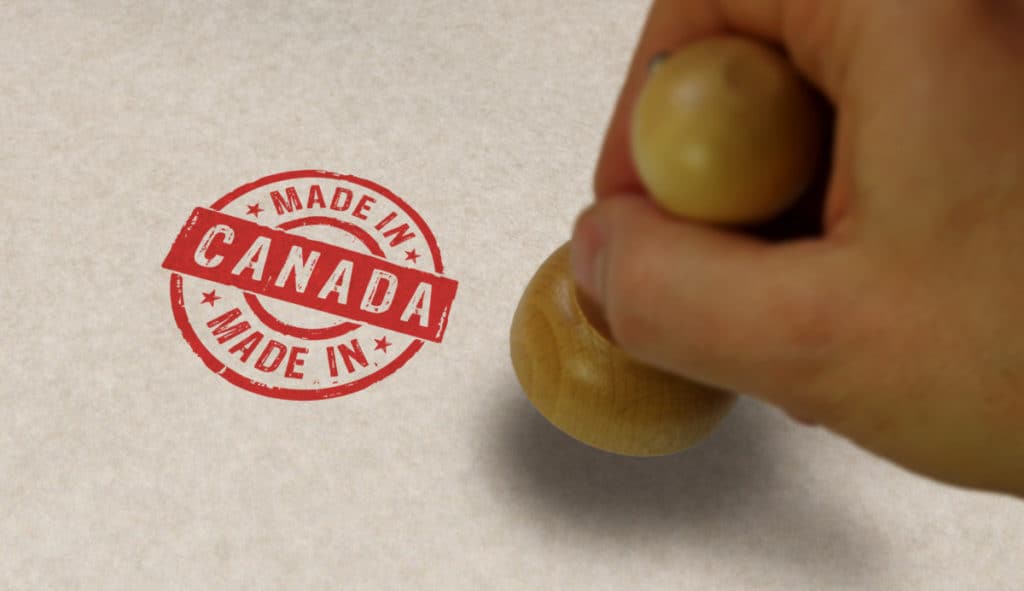 As you have learned from this post, there are many different Canadian made brands of hot tubs. From family owned single showroom manufacturers to large corporate mass producers, Canada has it all. With so many options it would be difficult for someone to not find a hot tub that fits their needs.
So should you buy a Canadian made hot tub? The short answer is yes.
The long answer is a bit more complicated. While there are many different options and some unique offerings, I wouldn't only consider buying a hot tub made in Canada. There are so many other great brands/manufacturers outside of Canada but still in North America.
When purchasing something as expensive as a hot tub, you should always consider all your options. If you are dead set on a Canadian brand mentioned above, go for it. Will you love it? Probably.
Should you consider other brands made outside of Canada too? Absolutely. If you still end up liking a Canadian brand the best that is great. The important thing is that you considered your options and spent the time to make sure you are happy with your choice. I have said it before, the best hot tub is a hot tub that you will use.