This post contains affiliate links.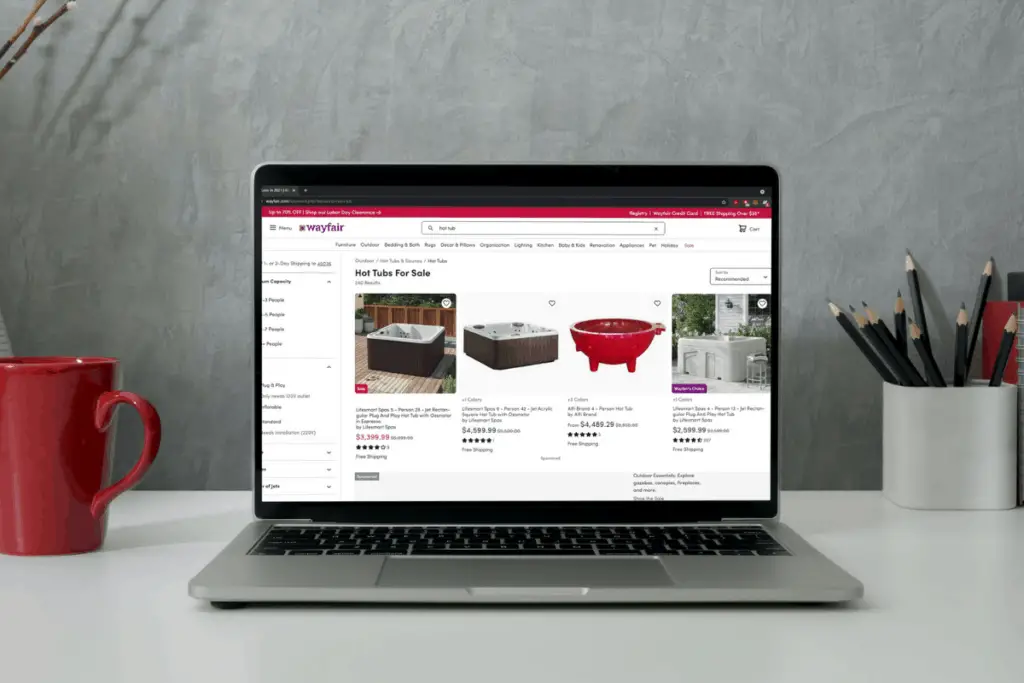 Purchasing a hot tub is a large financial commitment. As with any large purchase, deciding where to buy from can be one of the hardest decisions. With so many options out there, is an online retailer, such as Wayfair, really the place to buy?
If you are in the market for a hot tub, you should absolutely consider buying from Wayfair. There is a large selection of highly rated models from budget to luxury, that will satisfy many future hot tub owners.
There are hundreds of hot tub models for sale on Wayfair and that number is continuing to rise with the current wave of hot tub popularity. It can be a little overwhelming at first, but I will give you all the facts, so you can decide for yourself if Wayfair is the right place for you.
What Are The Reasons To Buy A Hot Tub On Wayfair?
There are currently over 150 hot tubs listed for sale on Wayfair. The price ranges from under $50 to well over $13,000, so there is a little bit for every budget. This brings me to the first reason to buy a hot tub on Wayfair.
Selection Of Brands:
Wayfair is known for its huge selection of home good products and it does not disappoint when it comes to hot tubs. You would be hard pressed to find such a large number of options at any "brick and mortar" operation. Even a larger warehouse type hot tub dealer will carry only a handful of brands with many dealers offering exclusively 1 or 2 brands.
Wayfair sells 32 brands of hot tubs. Some of the featured brands are:
AquaRest Spas
Lifesmart Spas
American Spas
Cyanna Valley Spas
Coleman
Intex
Direct Access To Customer Reviews:
One of the best things about shopping online is being able to easily crowdsource word of mouth recommendations and reviews of products. If you have ever been to a hot tub dealer before, you are familiar with the used car like sales approach many of them have when trying to sell you a hot tub. They are friendly, conversational, and are convincing with their polished sales pitches. That all sounds great, but how do you know if the hot tub they are selling is actually any good?
One way would be to spend a lot of time doing tons of personal research (don't worry HotTubInsight.com can help you here). Another way would be to ask for references from current customers and go speak to them about their experience.
Wayfair has 1000's of references (reviews) readily available. The top rated hot tub on Wayfair has over 390 reviews, many of which give a detailed account, with pictures, of the reviewers, experience with the hot tub. You can quickly crowdsource your research and make a better informed decision.
Variety Of Hot Tub Types:
Only an online retailer like Wayfair can provide the end buyer with so many categories of hot tub.
Inflatable – Light weight inflatable shell and structure much like an air mattress
Wood Fired – Uses a wood stove to heat the water (Stay tuned for a future review)
Plug & Play – Powered by a standard 110/120V plug (no electrician required)
Traditional – Most common style, 220/240V, classic portable hot tub
Price:
The pricing on Wayfair is pretty competitive for hot tubs. The price point can be considerably lower than what is offered at a traditional dealer. Lower price points generally mean smaller margins which is where an online dealer can shine. Choosing to purchase from an online retailer will mean the prices are probably non-negotiable, but you will not be paying sales commission so the deal will likely be better in the first place.
This isn't always the case so make sure you price compare before you ultimately decide to purchase.
One final price related benefit is financing. Wayfair has great financing options and hot tubs are eligible!
When Would You Not Buy A Hot Tub From Wayfair?
While there are many reasons to buy a hot tub from Wayfair, it is not for everyone. There are situations where you might be better off looking elsewhere.
You want a brand that isn't sold online:
As you read above, Wayfair sells many different brands of hot tub. There are however numerous brands that only sell from local dealers. These include:
Jacuzzi
Hot Spring
Bullfrog
Marquis
Sundance
Caldera
Artesian
Master
If you are set on one of these brands (I listed only a few), then you will have to find a local dealer that sells them.
Make sure you check back with HotTubInsight.com regularly, as we will be continually adding brand reviews.
Professional Installation:
If you buy a hot tub from a local dealer, it will generally include professional installation. What this means is, someone hired by the dealer will ship the hot tub to your house. When they arrive they will unload it from the truck, move it to where you want it to sit, unpackage it and hull away all the packaging materials. In some cases, the installation will also include the electrical hook up and help filling the tub. My hot tub did not include the electrical installation, but I will be doing a future post about that.
Purchasing from Wayfair only includes "Basic Outdoor Drop-Off" delivery. This means the hot tub will show up on a pallet in your driveway. You will be responsible for getting it to your backyard or where ever its final resting place will be. Even without water, hot tubs can be heavy. If this is something you are unwilling to do, then you might want to look elsewhere or consider hiring a local company to help,
Customer Support/Service:
Another benefit of buying a hot tub from a local dealer is most dealers also have a service department. This means if something on your hot tub breaks, you have a local contact who is familiar with fixing your brand of hot tub. You also have a local expert who can help you with water quality issues, questions, and general maintenance.
Wayfair will likely not have a network of local service professionals to help you. So if you are not comfortable troubleshooting and fixing issues yourself, you may have to find a service professional yourself. There are many service techs that will only work on particular brands. It is not the end of the world, but certainly could be more effort on your part.
Try Before You Buy:
Many online brands are, like the name implies, only sold online. This makes it difficult to try out a hot tub brand only sold online before you buy. Most local dealers will offer wet tests, which means you physically get into the hot tub, bathing suit, and all to see if you like it. I highly recommend doing this if you are considering a brand that offers it. My wife and I wet tested numerous hot tubs and one of them was instantly ruled out because the jets made my skin itch.
Wayfair does include a 30-day money-back guarantee. I contacted their customer service to confirm that the guarantee does apply to hot tubs. There is a fee for return shipping if you decided to return the hot tub based on a change of heart. If the hot tub was damaged during shipment, then Wayfair would fully cover the cost of return shipping and give you a full refund.
So there is a way out if you get the hot tub and absolutely hate it, but it will likely cost you a few hundred dollars to return.
What Other Online Retailers Sell Hot Tubs?
If you are still interested in buying a hot tub online and aren't completely sold on Wayfair, here are a couple of other options.
Amazon
Ebay
Walmart
Overstock
If I find any good information or differentiators for any of the options above, I will be sure to write a future post. Make sure you check back regularly.
What's The Final Verdict?
I have given you all the tools you need to decide for yourself if Wayfair is the right place for you to buy a hot tub. There are certainly many compelling reasons either way. The important thing to remember is a hot tub is only good if you will use it regularly. So check out the rest of HotTubInsight.com, re-read through the points of this post, and I know you will find a hot tub that you will enjoy for many years to come.