This post contains affiliate links.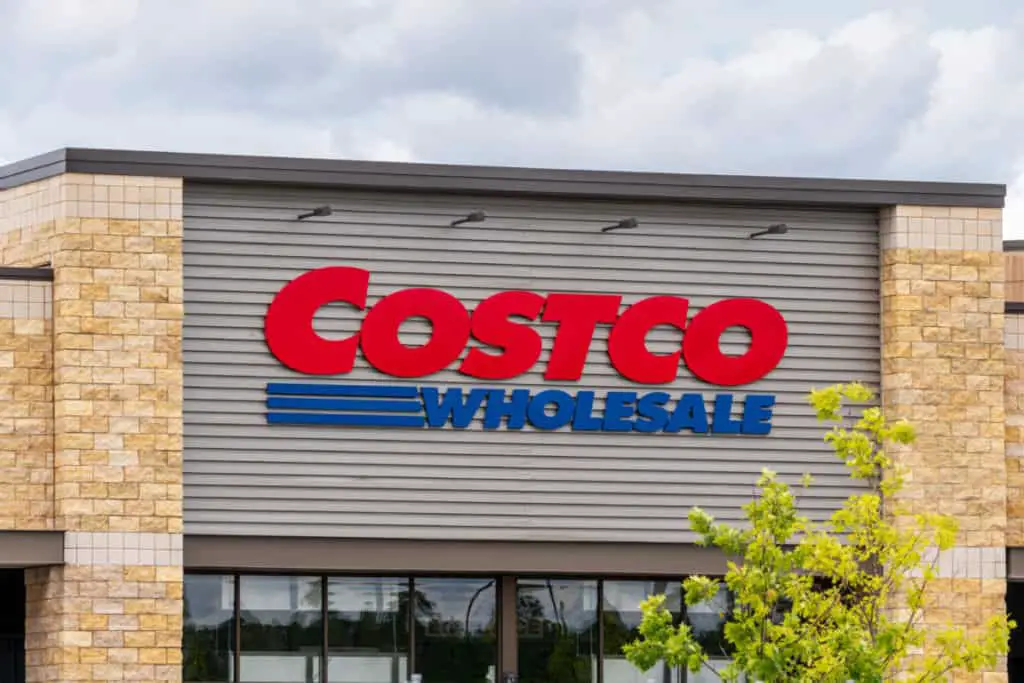 Costco is one of the most popular big box stores for good reason, they have amazing deals! Did you know they sell hot tubs? Of course, you did, why else would you be reading this post. The question you are probably asking yourself is: Should you buy a hot tub from Costco? Are they any good? Is there a particular time of year to buy one?
The best time to buy a hot tub at Costco is in the fall and winter months (Q4 and early Q1). This is when stores will be trying to clear inventory and prepare for the next year's models. The best deals will be on floor models. Next check for anything that is in stock. Finally, see if the manufacturer is offering incentives to clear out their inventory which can save you money.
Knowing the best time to buy a Costco hot tub is an important first step, but what hot tub should you buy? How do you get the best deal? Read on to find out.
How To Get The Best Deal On A Costco Hot Tub?
Costco now only offers hot tubs online. I talked at length with Costco customer support and was unable to find a model that was offered in-store. This is not surprising given that hot tubs take up a lot of floor space, have specific installation requirements, and require additional training to sell.
Unfortunately, this means you will be limited on the discounts that you can get. Usually, the best deals will be on in-stock and/or floor models. Without a store presence, these types of deals will be unavailable. You can check your local Costco to see if they keep any models in stock, but based on my research this is unlikely. I will keep tabs on this and update this post if this changes.
Since you cannot purchase a hot tub from a Costco store location, how do you get the best deal?
Monitor Prices And Wait For A Deal
This may seem obvious, but impulse buying is a huge part of consumerism in today's society. A hot tub is a large purchase and deserves some thought. If you have done your research, like reading my article about alternative hot tub chemicals, and know what model of hot tub you want to buy, place it in your cart. Costco will remind you that it is there, and you can check back regularly to see if they are running a deal. The prices tend to fluctuate throughout the year. If you see the price drop, grab it. For major purchases, I like to shop around Black Friday. Looking at past deals, I have seen Costco offer up to $2000 off as a Black Friday special. There is no guarantee that this will happen this year though, but it is good to be on the lookout.
Use A Price Tracking Plug-in
This tip goes for any online purchase but you probably never thought to use it for a hot tub. The price-tracking plugin that I like is Honey. You can create a "DropList" that will track prices, set up price alerts, and get cashback from participating stores. Unfortunately, Costco does not participate in their cashback program currently, but you can still use the price tracking features.
Here is my DropList for Costco hot tubs.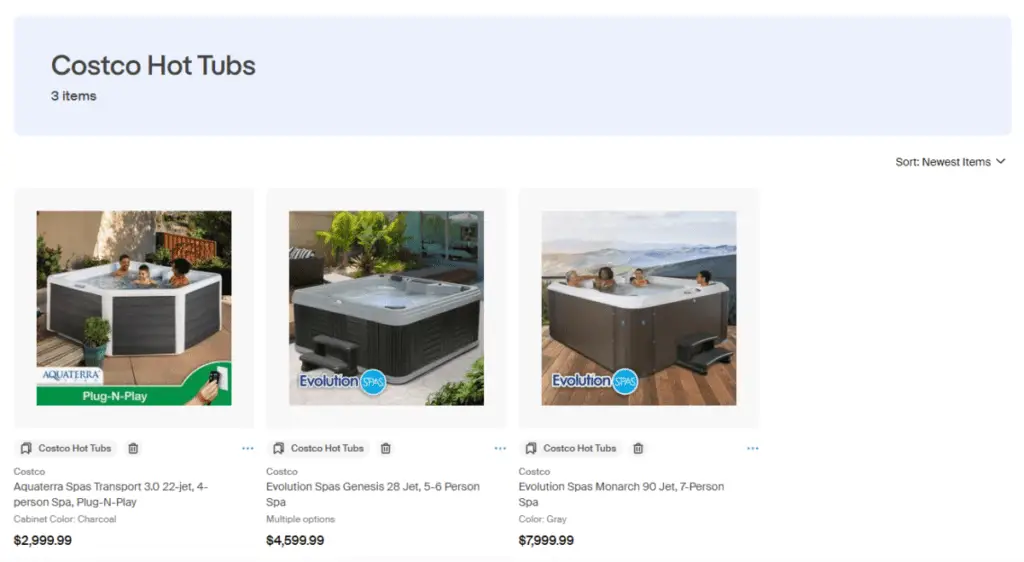 Use A Deals Website or Forum
People post deals all the time in forums you just have to know where to look. My favorite deals website is Slickdeals. They are the best-crowdsourced deals site I have ever come across. You can search just about any product and if a deal is available, someone will have posted about it. I just searched "Costco Hot Tubs" on Slickdeals and found a posting from earlier in the year where Costco was offering a $1000 discount on one of their models.
Since this is a crowdsourced platform, you will be able to see what others think of the deal and whether or not they were able to take advantage of it. You can subscribe and save searches so you will be notified when new results pop up.
What Hot Tub Brands Does Costco Sell?
Costco has reduced its hot tub brand offerings as part of its response to the high hot tub demand and supply chain issues at the time of writing this article.
Evolution Spas
Evolution Spas are exclusive to Costco in North America. They offer a variety of sizes and features. According to their website, they have been making hot tubs since 1995. I have found that people are generally happy with their purchase, but with the lack of local dealer support have found it difficult to service when issues come up.
The offerings at Costco are constantly changing so check out the Costco website for the latest models.
Aquaterra Spas
Aquaterra Spas is another exclusive brand to Costco. They are manufactured by Watkins Manufacturing which makes brands like Hot Springs and Caldera Spas. They offer feature-rich hot tubs at a value price. I have not found many people who have experience with this brand, but there are plenty of reviews on Costco's website.
The offerings at Costco are constantly changing so check out the Costco website for the latest models.
What Is The Buying Process Like?
Purchase
The buying process is the same as buying any other Costco product online. Provide your information and a purchase method and that is it!
Delivery
The purchase includes curbside delivery which means Costco will ship the hot tub to your house and drop it off in your driveway. You will need to organize your installation. This means you will need to move the hot tub to your final installation location. Tip: Hot tubs weigh anywhere from 500-1000+ lbs. There are likely numerous local companies that are willing to assist you in this for a fee, or you can invite over your 4 strongest friends.
When I got my hot tub delivered from my local Jacuzzi dealer it took 4 young guys to slide it into place.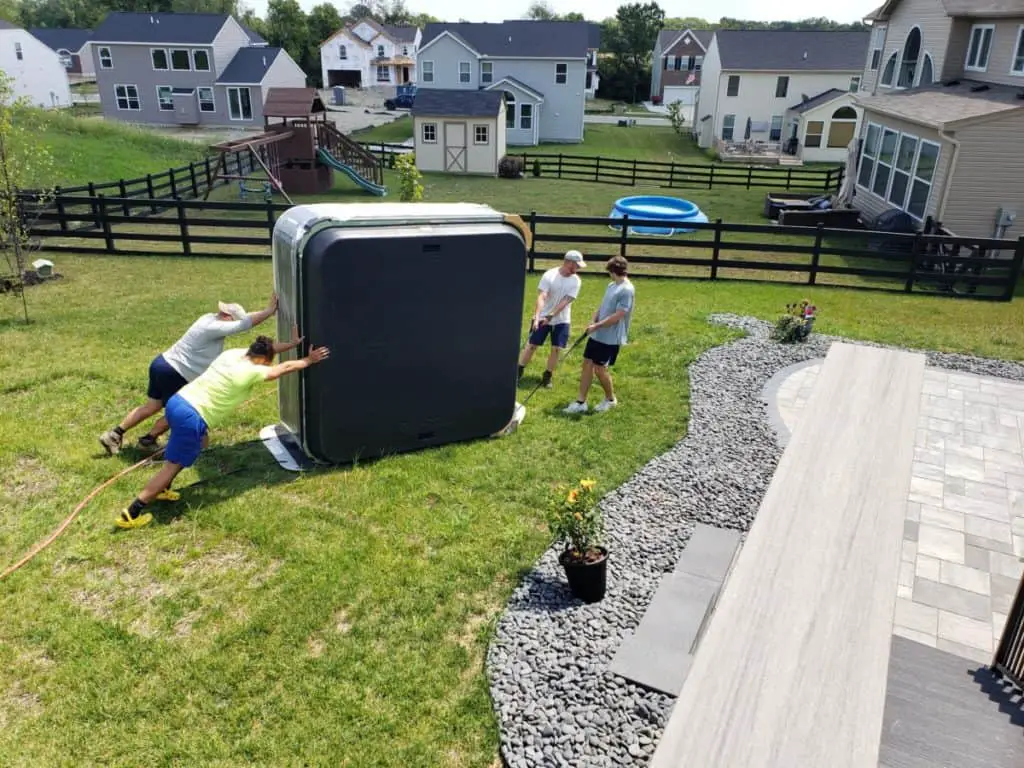 Installation
Unless you buy a "Plug and Play" hot tub, you will need a 220V outlet. If you do not have this already, you will need to hire an electrician or install yourself if you are a qualified DIY'er. Your purchase does not include this step.
Will Costco Service My Hot Tub If It Breaks?
Costco will not service your hot tub. This is an unfortunate negative to purchasing a hot tub from a large box store. I spoke with Costco customer service about this topic. They stated that for repairs and warranty claims you will need to contact the manufacturer directly.
Costco also does not cover hot tub purchases under their 90-day return policy. A return has to be requested and approved by the returns department on a case-by-case basis. What does this mean? It will be very difficult to return your hot tub without a compelling reason.
Should I Buy A Hot Tub At Costco?
A Costco hot tub is not for everyone. There are a lot of better hot tubs available on the market, but not everyone needs an intense hydrotherapy experience or the individual customizations that higher-priced brands offer. I did not buy my hot tub from Costco, but I was looking for hydrotherapy and local dealer support.
With that being said, if you just want to enjoy the hot tub experience or have a limited budget, Costco may be the place to shop. Most people are happy with their hot tub purchase from Costco, based on reviews and forums I have read. If you are going to consider Costco you may also want to look at Wayfair. Wayfair offers similar tiers of hot tubs and has a better return policy.
If you are on the fence, consider reading my article about investing in a hot tub. The important thing to remember is a hot tub is only worth it if you are going to use it.
What Other Online Retailers Sell Hot Tubs?
If you are still interested in buying a hot tub online and aren't completely sold on Costco, here are a couple of other options.
Amazon
Ebay
Walmart
Overstock
If I find any good information or differentiators for any of the options above, I will be sure to write a future post. Make sure you check back regularly.
Inside Look
I will leave you with a great inside look of a Costco Evolution Spas hot tub. I put this at the end because it is a fairly harsh review. He makes a lot of good points, but as I said earlier, not everyone is looking for the Rolls Royce of hot tubs. It is a review of an older Evolution Spas hot tub so their manufacturing techniques may have changed.